How beautiful and incredible to be witnessing these miracles as they appear in our world. This morning it was reported that Australia has returned 50,000 hectares of land to the native Larrakia Aboriginal people. These and other changes are also happening amid our erupting social and political structures, they truly are. The tempestuous times and nature of the crisis and upheaval we are experiencing now are part of the process and movement stemming from our deep and imperative, critical collective call for change. To the light. To the hope. To all people and beings. To the Earth herself. Peace and respect. To the world. Amid our complex crisis today.
Wouldn't it be fantastic to fully realize that we actually ARE bringing in a Conscious, centered and Awakened world! And doesn't this birthing process most unwaiveringly carry the scent and ever eternal holding and fierce unconditional presence of the divine feminine - Mother - in it's wake and breath?
During the past week I have seen reports of animals being freed from captivity and respected and honored at last, religious orders coming forward to acknowledge and correct the patriarchal sins and mislabeling of the feminine lineage and her true and critical healing role in the past, and now this, these indigenous people, being honored and redeemed. What a celebration.
This world needs our Faith more than ever before, as well as our active participation. Let's acknowledge and uphold it. Some celebration and gorgeous focus for today.
Can you fully imagine our World living in peace, balance, Intelligence over insanity, and Conscious Knowing (Love)? Imagine how far we can go collectively in this grand cosmic dance and experiment of choice and evolution, if we just keep going and never lose our faith or this vision deep inside. There are other civilizations in the Universe that live a far, far higher conscious paradigm than we are experiencing here on Earth. Let us look to them for our example. And let us hold our own conscious expansion as our greatest gift and ally as we watch and act with bated breath this world fighting to open up to an Awakened unity at last. We *can* hope. This is gorgeous.
To the light. To the hope. For all people and beings. And for the Earth herself. Peace and respect. To the world.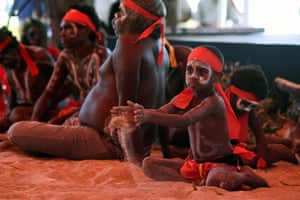 A young Aboriginal dancer plays in the sand at Mandorah in the Northern Territory on Tuesday at a ceremony to hand back Kenbi land to its traditional owners. Photograph: Lukas Coch/EPA
article: Kenbi land returned to Aboriginal people after 37-year fight - The Guaridan.com
https://www.theguardian.com/australia-news/2016/jun/21/at-last-kenb...  photo credit c/o The Guardian.com
Larrakia man Eric Fejo (centre) throws up a piece of white paper, symbolising the government's federal plan for the northern region, during a ceremony to hand back Kenbi land to its traditional owners on Tuesday. Photograph: Lukas Coch/EPA